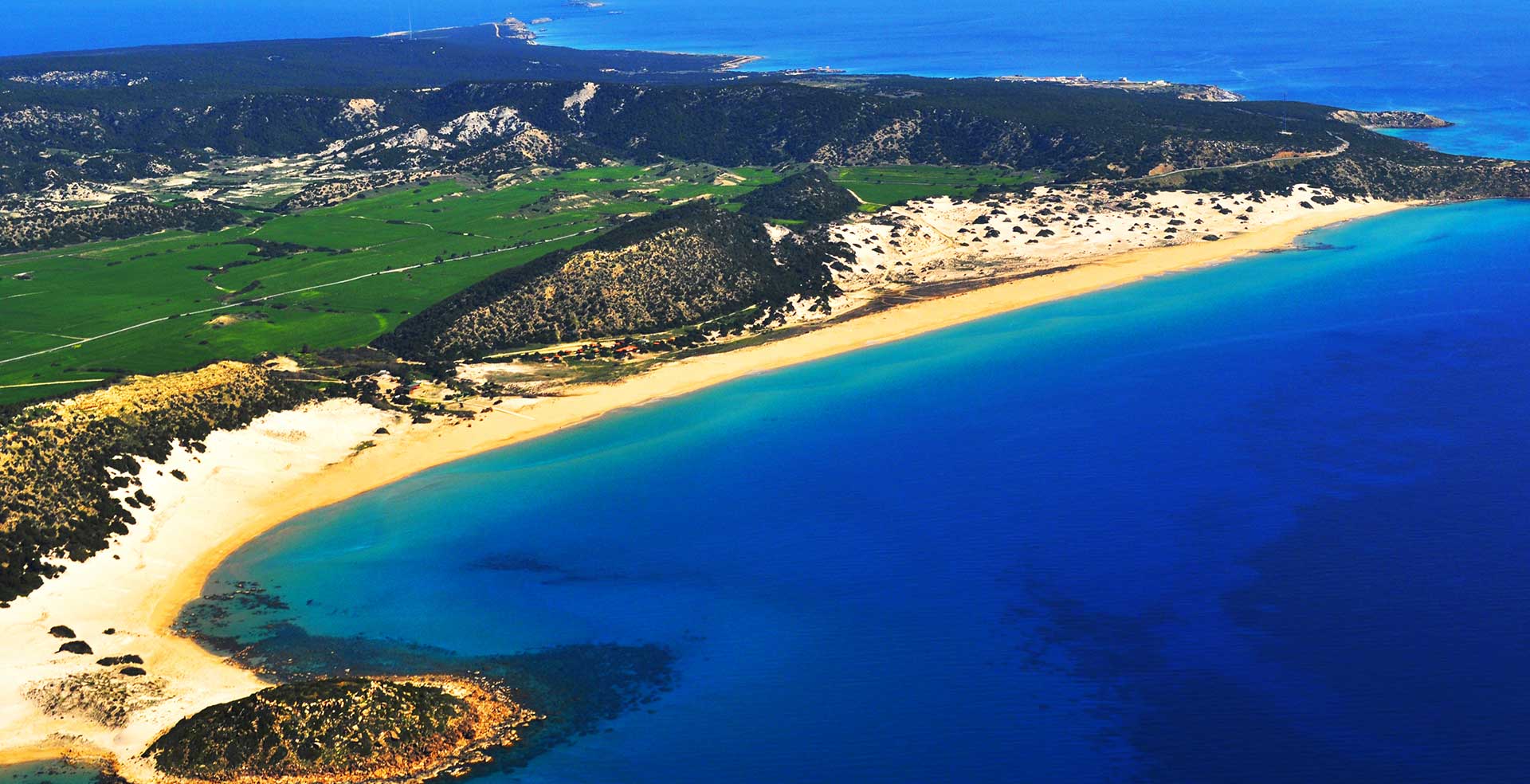 North Cyprus Beach Holidays
No matter where you choose to stay in North Cyprus, the chances are that you will not be too far away from a good, sandy beach. North Cyprus beaches are one of the best attractions of North Cyprus holidays. How you make your choice depends on your own interests and requirements. If you have children you might be looking for a good safe beach with a gentle shelf into the sea otherwise you may be looking for lots of sea sports activity. There are beaches to suit all in North Cyprus. Not all beaches are public, there are some private beaches where a charge is made. Normally, you can expect a higher standard of facilities on a pay beach.
Starting in the Karpas peninsula, there are some beautiful beaches although fairly remote. The real star is Golden Sands on the south coast. It's a beach where turtles nest, a protected species, and they must not be disturbed. Moving west to Famagusta again there is plenty of sand. Virtually the whole of Famagusta bay is sandy so wherever you stay in the region, it will probably have a beach on the doorstep.
The majority of visitors to the region stay in the vicinity of Kyrenia where there are plenty of smaller beaches. East of Kyrenia there is the Acapulco beach which is part of a holiday complex of the same name. There is an entrance fee but there are loads of top class facilities to enjoy and a good range of water sports. Further east still is probably the biggest and the best of the public beaches, Alagadi beach or Turtle beach as it's sometimes called. Again the restrictions in force to protect the turtles must be observed.
On the west side of Kyrenia the best beach is Escape Beach Club in a beautiful setting which can be appreciated from the road above. Again, as you can expect from a private beach, good sand and good facilities.
Further west, down the second road leading to the Mercure hotel is the Kervansaray Beach. This is fairly small but very popular and again there is a charge.
The small, enclosed Camelot beach is located in Alsancak and signposted from the main road. There is a small charge but the facilities are good and the water is shallow which makes it especially good for children.
Mare Monte is a small beach just west of the Merit Hotel in Alsancak. Plenty of character with sun beds and straw umbrellas.