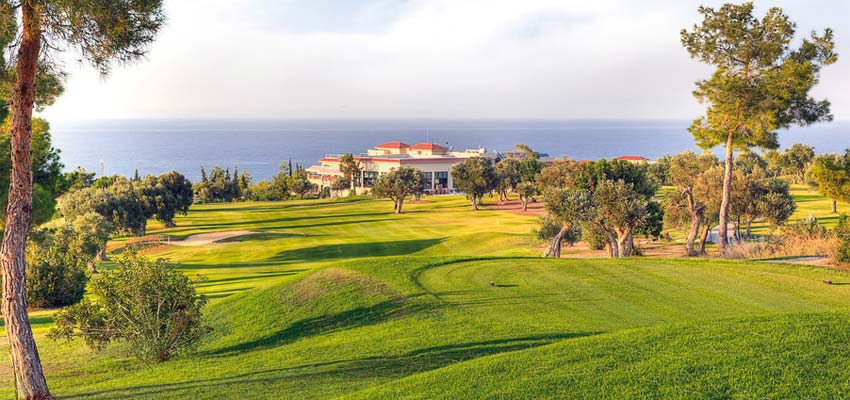 North Cyprus Golf Holidays
There are two golf courses in North Cyprus. The main one, the only one offering an 18 hole championship course, is the Korineum Golf and Country Club. This is located at the foot of the Kyrenia mountain range on the eastern side of Kyrenia at Esentepe with views out over the Mediterranean.
This 6.232km course uses eco friendly salt tolerant, seawater paspalum grass and is suitable for golfers of all standards and ages. Remnants of the old pine forest and olive groves are used to create an interesting undulating course with two man-made water features and all the usual bunkers filled with white sand and crushed marble.
It has all the features expected for a top golf club, silent electric golf cars, rental clubs and shoes. There is also an academy driving range with 34 bays and a drive just under 300m long, a large grass tee practice area, two putting greens and one chipping green and bunkers for practice. In addition there is an academy course with full length par 5 and par 4 holes and a challenging par 3 as a warm up regardless of handicap status. Golf lessons are available from the resident professional
There is a first class hotel on-site with 48 rooms, swimming pool, wellness centre and spa and fitness centre.
The green fees are very reasonable for a quality golf club and are amongst the lowest in the Mediterranean.
Cengiz Topel Golf Course, near Guzelyurt, gives you a chance to play golf by the sea. This par 70 course has two loops of nine holes and a total distance of almost 5.25km. Although the course has plenty of grass, some greens are replaced by 'browns', a compact mix of sand and oil which provides an ideal putting surface. Four of the holes are beside the sea and golfers attempting the par 5 number 9 hole have to contend with a large palm tree on the putting green. Clubs can be hired if you don't have your own and the green fees are very, very reasonable. Golf shoes are required and appropriate dress.