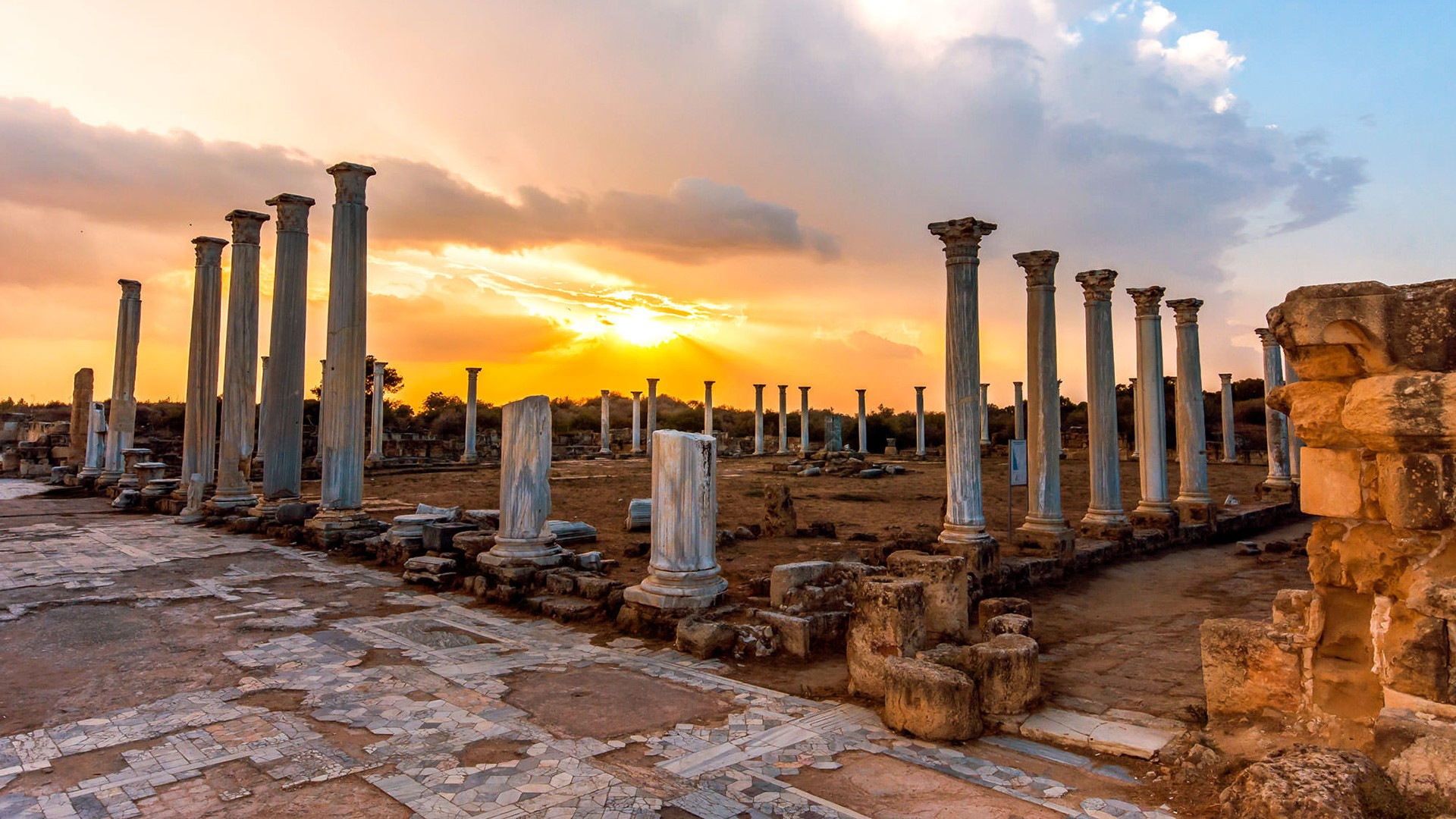 Salamis, Famagusta - North Cyprus
Salamis is the most important tourist attraction in North Cyprus.
According to myth, Teucar, son of the King of the island of Salamis in the Saronic gulf,settled here and named it after his home. History tells the story a little differently. The discovery of an 11 C BC tomb at Salamis suggests the nearby city of Enkomi moved there after a disastrous earthquake around 1075 BC. The chain of historical evidence is broken then until 709 BC when an Assyrian grave stele was found to mention Salamis as a city of Cyprus. It prospered well in the 8 C and 7 C and, around 560 BC, Evelthon became the first Cypriot king to mint his own currency.
More troubled times followed with the involvement of the Persians but Ptolemy I Suter, the ruler of Egypt, took possession of Cyprus in 294 BC and it remained under Ptolemaic rule until the Romans took over in 58 BC. Salamis flourished again with its good harbour and established trade connections but it was not to last. Earthquakes caused some destruction and the city was largely destroyed during the Jewish revolt of 116-117 AD.
In 350 AD the city was rebuilt on a smaller scale by Emperor Constantius II who renamed the city Constantia. In the mid 7 C the city was sacked by the Arabs and the residents fled to Famagusta.
Salamis lies about 8km north of Famagusta and there is space for parking if you are travelling independently. Take plenty of water, the site is very open and it gets really hot in summer.
Salamis covers an extensive area but most of the evocative ruins lie fairly close to the entrance. Enthusiasts will want to explore further in which case there are information boards around to direct visitors to the important outlying structures.
The first area reached is palaestra, the exercise area, which included the gymnasium and baths. In the centre is a court with columned arcades on all four sides. There is a mismatch of columns and capitals arising from the rebuilding after the earthquakes in the 4th century. There are swimming pools, latrines to see and some fine mosaics.
Further on lies the theatre built in the time of Augustus, originally built to seat 15,000 spectators. Continuing on leads to the remains of what was once a two-story Roman villa and heading towards the sea will bring you to 4th century Kampanopetra Basilica. There is still more interest in the outlying regions.