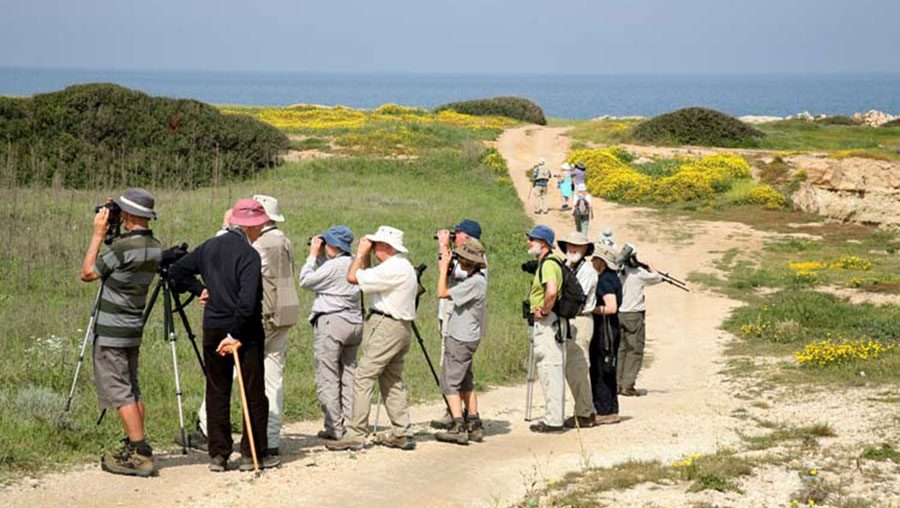 North Cyprus Birds
The island of North Cyprus is ideally located as a stopping off point in the Mediterranean for migrating birds between Africa, Syria, Turkey and Central Europe. To many, it is regarded as a bird watchers paradise with spring migration from the end of February until late April and an autumn migration beginning early September until late October. There are birds all year round though of which 46 species are native to the island including the Cyprus Pied Wheatear and Cyprus Warbler. Also 7 endemic sub species, like the short-toed tree creeper found only in North Cyprus, and late spring arrivals are the colourful Bee Eaters and Rollers. According to KUSKOR, there are a recorded 347 species for the island.
A variety of sites is spread throughout the whole of North Cyprus which offer differing environments. This makes it possible to observe and record more birds in the course of a holiday. Mountains attract the larger birds of prey as well as rock loving species. The western end of the Kyrenia range and craggy outcrops are good spots to start. From this point, the range diminishes and flattens into the finger of Korucam Burnu at Sadrazamkoy. This is prolific bird watching territory as is the Karpas Peninsular (or Panhandle) at the eastern end of the range; a much longer finger ending at Zafar Burnu (Cape Andreas). An abundance of wetlands and reservoirs provide plenty of opportunities, especially after a wet winter. Of the reservoirs, Gecitkoy and Kanlikoy near Kyrenia are good. The salt flats near Salamis at Silver Plaj and Glapsides are best for winter birds as is a lake at Mehmetcik, beyond Bogaz, but there has to have been good winter rain for the latter to be worthwhile. Consider a two or three centre stay to cut down on travelling time.
The North Cyprus Society for the Protection of Birds 'KUSKOR' is a good source for birding information. It also runs the Cyprus Nature Library with information and books etc., located in an old office block down the side of Arkin Colony Hotel in Kyrenia.