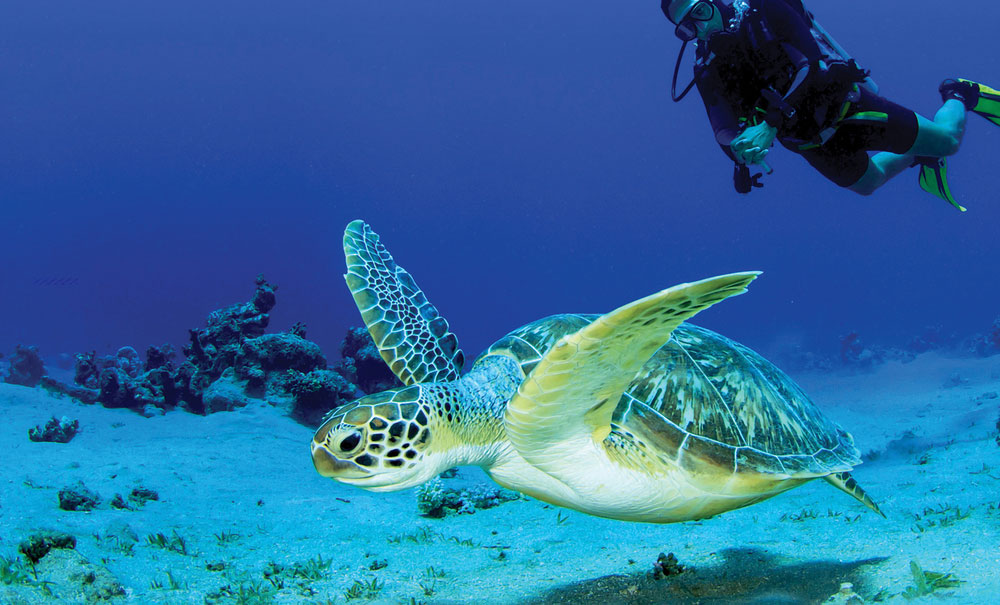 Scuba Diving Holidays in North Cyprus
Scuba diving is big business in North Cyprus and there is no shortage of ideal venues from which to choose. Some of the best sites in the Mediterranean can be found here. Warm seas and crystal clear waters, with visibility 25 - 30 meters, and an enticing rocky coastline prove a magnet to budding, as well as experienced, divers. What makes the venue even more attractive are the many varied sites it's possible to explore. Fish such as stingrays, amberjack and the moray eel plus octopus and the Green and Loggerhead turtles are some of the abundant underwater life. Caves, wrecks, deep water, reefs, and opportunities for underwater photography are the lure for novice and professional divers to the north of the island. North Cyprus is an ideal place for diving holidays.
There are at least 20 diving sites to the east and west of Kyrenia which include the site of the world's oldest shipwreck, 2,300 years old, a ship which plied the seas at the time of Alexander the Great. What remains of the hull from this ancient wreck is now housed in Kyrenia Castle along with some of the many amphora and artefacts recovered at the same time. Because of centuries of its being a pivotal point in the eastern Mediterranean for trade and conquest, the seabed off North Cyprus is a treasure house for wreck exploration and possible exciting new finds. Even a plane from World War II, which ditched in the sea, has become another curiosity to explore.
The season for scuba diving is long in North Cyprus and stretches from April until some time just before Xmas. It's as well to remember though that it is illegal to move or touch historical artefacts which may be found on the sea bed.
It is important to know that diving is not allowed on your own without being accompanied by an approved instructor. It's also imperative that clients only book to dive with PADI (Professional Association of Diving Instructor) qualified instructors at approved sites. Some companies are attached to hotels with pools; useful for beginners where early lessons take place in pools. Novices are then able to progress through the necessary practical skills to open water diving with a certificate issued for each stage.