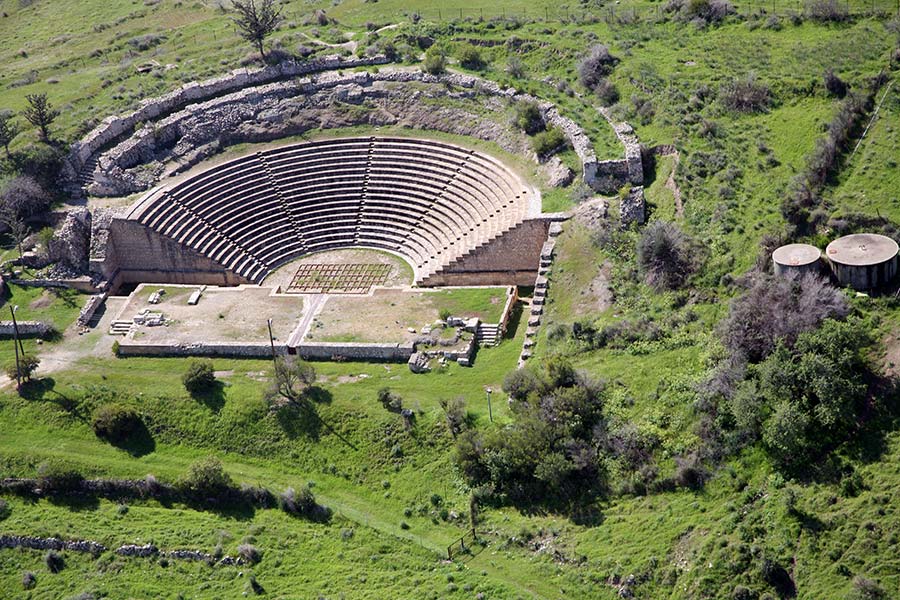 Soli & Vouni, North Cyprus
Two important ancient sites in North Cyprus which often get overlooked are Soli and Vouni Palace. Both of these lie in the extreme west of the region and both can be visited in the same trip but you will need a hire car. A bonus for this trip is the excellent seaside fish restaurants in the area.
The route out west takes you through Guzelyurt where you might wish to stop to visit the Monastery of Ayios Mamas. Otherwise continue westwards to find ancient Soli on the hillside to the left just after passing the Lefke junction, it is easily missed.
Soli was one of the ten ancient kingdoms of Cyprus which was built around the 6th century BC although there are references as early as the 11th century BC. The name Soli is after the famous Greek philosopher, Solon. A good port and rich, fertile soil helped Soli to thrive over the centuries, especially with the nearby copper mines. It was not to last, the harbour silted up and the copper mines closed in the 4th century AD. Arab raids in the 7th century finally destroyed the city.
The main focus of attention here is on the basilica which is now covered to protect the outstanding mosaics depicting birds including a swan. Further up the hillside is the Roman theatre built at the beginning of the third century. To see more you will need to hunt around the site but there is a map to follow.
The Palace of Vouni is just a little further on, perched on the summit of a hill commanding excellent views. The palace had a relatively short life. It was built about the 5th century BC by the pro-Persian city of Marion to overlook Soli which supported the Greek cause. The complex seems to have been destroyed by fire around 380 BC.
The design of the palace suggests a lifestyle of wealth and luxury. The remains of the palace are there with its great hall and to the south of this a temple dedicated to Athena. Excavations in the 1920's discovered many votive offerings here.