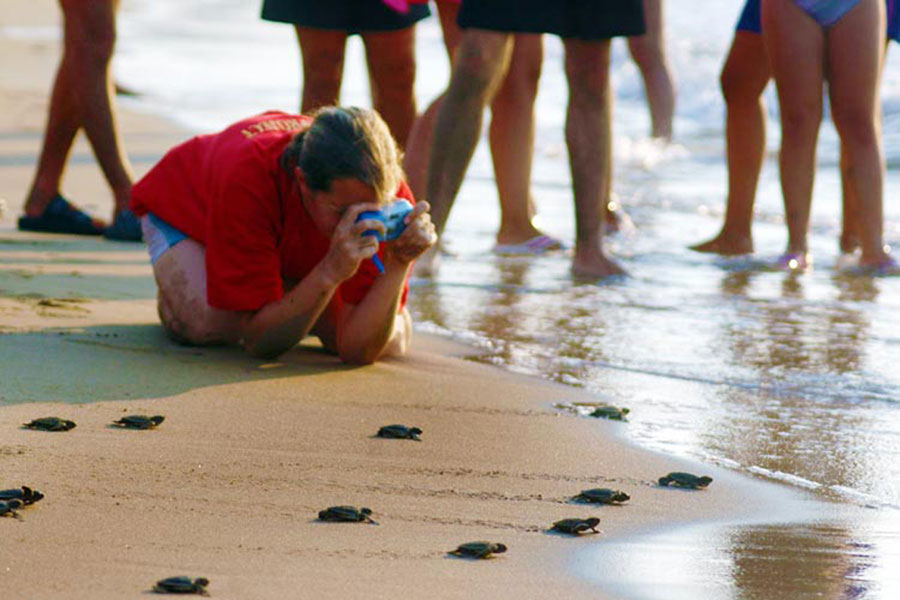 Turtle Watching in North Cyprus
North Cyprus has many ideal beaches where turtles bury their eggs in the sand to develop and hatch over summer. With developing tourism, turtle beaches began to come under increasing pressure, especially on popular beaches like Alagadi. In 1992, the Marine Turtle Research Group, in conjunction with SPOT the Society for the Protection of Turtles in North Cyprus and The Department of Environmental Protection stepped in to co-ordinate, protect and record turtle activity. This is now firmly established as an annual event and many, mainly overseas student volunteers, devote themselves full time to overseeing the protection of the turtles. The main place of study is Alagadi beach.
Two species of turtle visit North Cyprus beaches, the Green Turtle (Chelonia mydas) and the Loggerhead (Caretta caretta). Turtles are creatures of habit and will return to the same beach every year to lay their eggs. Females are usually 20 - 25 years old before they start to lay eggs and can lay up to 100 eggs in any one season but only about one in a thousand make it to adulthood. They drag themselves across the beach to lay their eggs between the end of June and beginning of July where they are left to develop for around two months. This is the time when the eggs need protection from tourist sun umbrellas and sunbeds etc. so usage of such is discouraged in these areas. During the turtle season, the beach is closed between 10pm - 8am and motorboats, jet skies and similar banned within 1km of the beach. Further protection is given by the volunteers placing wire cages over nesting sites.
Egg hatching is a busy time when volunteers get little sleep. It's imperative the hatching babies are given as much help as possible to make the perilous journey to the sea. Many predators keenly await such an easy food source, such as the seagulls.
Because of the nature of the process, the general public is asked to stay away at these sensitive times. Interested parties though, are able to observe the turtles but only under supervised conditions. You just can't turn up! Observation bookings are taken in advance at the 'Goatshed' on Alagadi beach or at times in Kyrenia harbour.