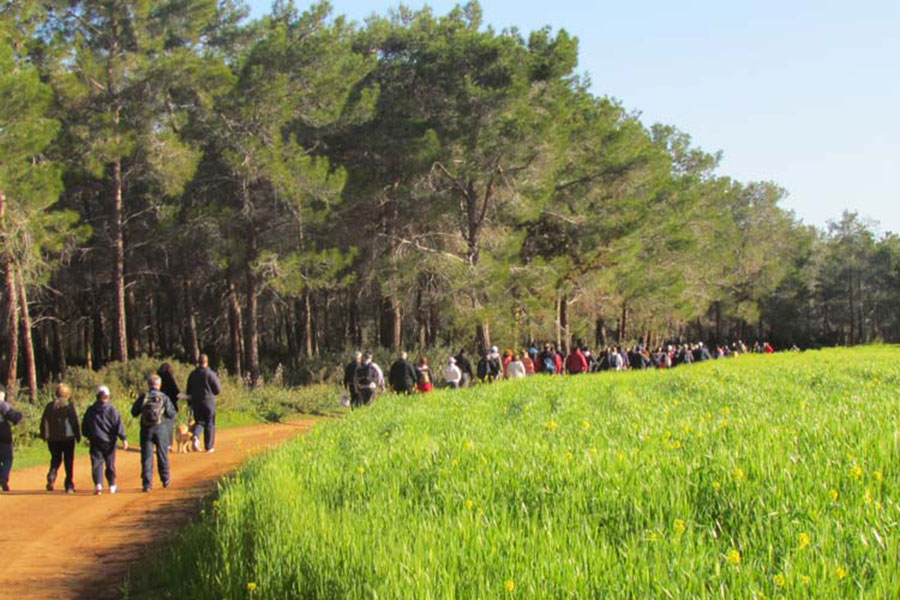 Walking Holidays in North Cyprus
North Cyprus is ideal for walkers as it's possible to enjoy walking on the island for a large portion of the year. There are walks for all grade of walkers from the gentle to the challenging. Information on where to walk is available and there are companies, either based on the island or abroad, who organise individual walks or with a group for those who prefer to be guided.
The Kyrenia range, also known in Turkish as Besparmak or the English Five Fingers, is a long narrow, mainly limestone, mountain chain along the north coast of Cyprus which stretches for over 160km/100mi. It offers some of the best walking. A major challenge is to walk the waymarked Kyrenia Trail from Zafar Burnu, the eastern tip of the Karpas, to Korucam Burnu, the western tip. The trail can be broken up into shorter day walks or the whole arranged with accommodation and pickups along the way. There is also an amazing variety of shorter walks, on beaches, amongst the folds of the range and the gentler undulations at lower levels away from the mountains. North Cyprus walks aren't short of interest along the way, with ancient prehistoric tombs, Roman fish tanks, crumbling monasteries and even some mysterious stone statues in the Karpas. Spring is a delight of flowers and meadows and roadsides become a riot of colour. Orchid lovers in particular will find species from late December up until early May. Bird watchers will not be disappointed either as the spring and autumn migrations cross the island. Even visitors spending time exploring old villages will stumble across something interesting from an older way of life.
The end of May through to late September are the times when it becomes too hot for daytime walking. Walking very early morning in summer though can be delightful, especially in the mountains. It can be unbelievably beautiful at that time of the day. Much of the main walking season is during spring and summer but, even in winter, ideal walking conditions prevail. Winter rain can be very heavy but usually doesn't last too long and the heat of the sun soon starts to dry the ground in open areas.