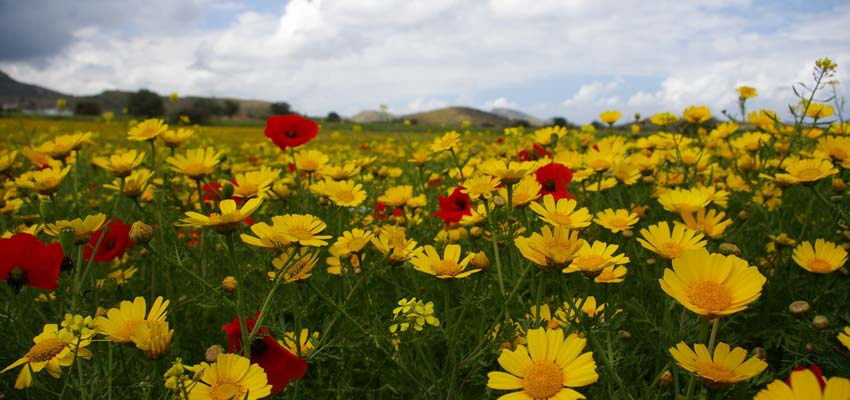 Wild flower and orchids of North Cyprus
Wild flowers and orchids love limestone and North Cyprus has it in abundance. The Kyrenia range of mountains which runs across almost the whole of North Cyprus, parallel with the coast, is largely limestone.
Spring in particular offers a huge array of wild flowers with both mass displays and individual species. As far as the flowers are concerned, spring starts early. January sees pale shades of Anemone coronaria coming into flower, whites, pale mauves and pinks. The deeper shades seem to flower a little later and, unusually, there is a deep red anemone easily mistaken as a poppy. The first of the wild orchids too flower in January, and sometimes before Christmas, but the main flowering season, when it is possible to see the greatest number of species in flower, is the end of March and early April.
One of the weeds of cultivation, the bright yellow Bermuda buttercup, is an introduced species which thrives throughout the Mediterranean. It is actually an oxalis but it makes attractive mass displays along the roadside. Chrysants, again bright yellow, turn whole fields yellow and there is no better display than on the ancient site of Salamis. In spring the site is awash with chrysants.
Amongst all the usual geraniums, daisies and peas, there are one or two real eye-catching flowers. One of these is the turban buttercup, Ranunculus asiaticus, which can be white or yellow. It is a large, open flower not instantly recognised as a buttercup.
Wild orchids are prolific and fascinate a lot of visitors to North Cyprus. Virtually any walk on the wild side, especially in the hills, will bring you into contact with these intriguing flowers. The bee orchids resembling an insect, as the name suggests, attract the most attention. Not all of them have common names but those that do are often the easiest to identify, like the yellow bee orchid. There are lots of endemic flowers in North Cyprus but the star attraction is the bee orchid Ophrys kotschyi named after the Austrian botanist Kotschy. It is one of the larger orchids with a deep velvety lip beautifully marked with a variable pattern of white.